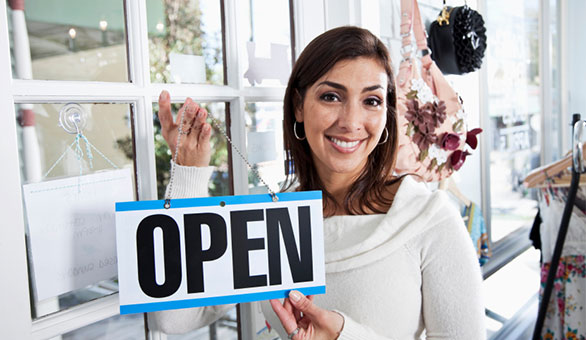 If you watch a little too much TV (we're all guilty of it some days), you might start to think the American Dream is a luxury car, a beautifully furnished and always perfectly clean house, travelling around the world, and still having money in the bank for the latest version of every gadget Apple has to offer.
But that's not the American Dream.
The American Dream is about building something out of nothing. It's about taking an idea and turning that idea into reality. It's about casting a vision to help others see what could be, and then bringing that vision into the world.
The American Dream is about rolling up our sleeves and building a business, together.
For the last 236 years, America has been known as "The Land of Opportunity." Throughout history, people have come to America not just to get a job, but to live out their hopes and dreams.  For many, this means starting a business to make their mark on the world. We are a country filled with self-starting go-getters that don't just want to make a name for themselves, but want to make their contribution to our future together.
Right now, the next Steve Jobs is sitting in a garage or a basement with little more than the clothes on his or her back, and an idea. An idea that could change the world.
But the next Steve Jobs isn't guaranteed a spot in the history books. Unfortunately, too many world-changing ideas fall flat on their face. Failure can happen for all sorts of reasons. In his book, Small Business Management, Michael Ames names just a few of them:
Lack of experience

Insufficient capital

Poor location

Poor inventory management

Over-investment in fixed assets

Poor credit arrangements

Personal use of business funds

Unexpected growth
An amazing idea is not a startup's free ride to success. It's simply a ticket for aspiring opportunists to embark on a journey.  And if they are lucky, they will encounter the right people with the best advice and motivation, they will get the right infusion of resources from the business community, and they will find the right funding sources to give them the cash they need to build and grow.
But a startup's success shouldn't be based on luck. Startup competitions are powerful incubators for new businesses because they bring together motivation, resources, funding sources, and more.  They challenge every business owner (not just the winners) to put their absolute best foot forward, and to work out every possible kink from their business plan before someone else sees it. And entrepreneurs get to rub shoulders and compare notes as they get a closer look at what others are doing. It is this type of community that fosters the innovation that brings an idea into reality.
The process every startup goes through in a competition helps them grow. But winning a startup competition comes with some pretty big perks too. It gives your company significant exposure with some exciting PR opportunities. Then there's the awards themselves. Depending on the competition, winners can receive tech goodies, trips and VIP passes to industry events, piles of cash, and access to valuable mentors and VCs (Startup Open, for example, offers mentorship with Mike Delazzer, founder of Redbox).
Need help finding the startup competition that's right for you? We've got you covered!
We believe in startups, so we compiled the Ultimate Guide to Startup Competitions, including awards, eligibility details, judging criteria, entry deadlines, and more. In total, these competitions offer more than $3.3 million in opportunities for entrepreneurs (cash, investments and prizes). We included every competition we could find, but if we missed one, please email Stacey and we'll get it added right away. The only question left for you is which competition to choose!
America is still the land of opportunity. New businesses are starting every day. More importantly, we are always working on tomorrow's big ideas. Is your idea one of them?