No matter who or where along the entrepreneur journey you are, there will be times when you have inspiration flowing electric out your fingertips and there will be times when… not so much. Inspiration comes and goes, but having a great resource for your inspiration refills means you'll spend more time making things happen.
We pulled together 15 amazing places to find inspiration. Discover your favorite and visit as often as you need — you'll be raring to go every morning.
Entrepreneurship is all about creating your own new opportunities and having the drive to pursue them. This article from Life Goals Mag will help you find (or rediscover) the courage to do just that.
Ever been so inspired that you had no idea what to do with it? Inspiration doesn't always translate into action seamlessly. To Work Or Play's guide will show you how to turn a fire in your belly into real, measurable action.
One of the best ways to get inspired is to hear about the stories of other entrepreneurs who've come before you. This compilation from The Rise to the Top tells the story of twenty entrepreneurs whose journeys have been less than conventional -- it even includes interviews with each.
If you've ever seen a TED talk live, or even watched one online with the right ambiance, you know they're crazy inspiring and motivational. Fortune pulled together the ten best talks for any time you're feeling lonely or stressed along your journey.
5. How She Did It│Female Entrepreneur Association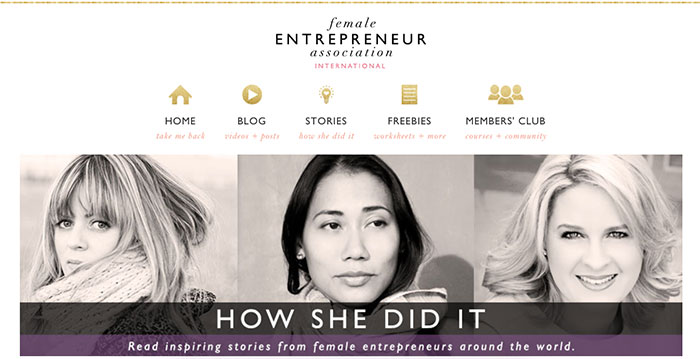 Women face their own host of unique challenges when it comes to starting and running their own business. Female Entrepreneur Association shares the many and varied stories of women entrepreneurs and their businesses.
The best way to find nonstop inspiration? Following all the right blogs that publish fresh, quality content on the regular. Shopify lists four of your best options and explains why they're so amazing. Take your pick!
Sometimes all you need to get inspired is the right soundtrack. Spotify has plenty of motivational startup tracks to choose from but this Startups & Entrepreneurs playlist is our top pick.
If you're a business school veteran, it's easy to get frustrated by the more nuanced aspects of running a new business. Ben Horowitz, cofounder of Andreessen Horowitz, shares essential advice on running a business and helps you through the harder, less glamorous parts.
Some companies are pretty good, some others are on a whole other level. What makes up the difference? Jim Collins weaves hard data into a story of how to take an okay business and make it truly great.
When you're an entrepreneur, selling your business can often be the same as selling yourself. Dale Carnegie shows you how to be truly charismatic — winning the favor of others and convincing them of your way of thinking.
The idea that you, one little person, can actually change the world seems a little bold, right? In their unconventional how-to guide, Diamandis & Kotler lay out a roadmap for those bold enough to believe they can truly impact the world.
There's nothing more inspiring than the stories of those who've done it — who've conquered the business world and found entrepreneurial success. Inc talks to ten successful founders who share their inspiration for starting a business.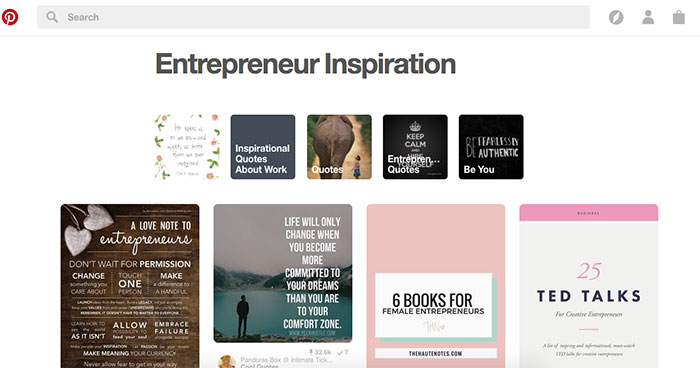 Is there a better inspiration headquarters than Pinterest? You find decorating and baking ideas there — now you can find inspiration for your business, too. Just search terms like "entrepreneur inspiration" and the options are endless.
When Grasshopper rebranded back in 2009, we wanted our customers to know how much we continue to admire entrepreneurs. That's why we created this video, to show our appreciation to small business owners and entrepreneurs the world over.
Women entrepreneurs dish about business and the women who inspire them to do it in Shopify's post. Have a listen for a dose of girl power and inspiration whenever you need it.