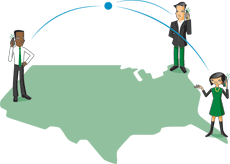 For those of us who still have a home phone (or remember the days before cell phones), you know that when you call a local number, you simply dial seven digits. You have an area code but how often do you dial it? Probably never. That's going to change.
With cities across the United States running out of local numbers, many areas are requiring you to dial the area code every time you make a call.
Oklahoma just implemented 10-digit dialing March 5th. They will be launching a new area code April 1st in a town that already has one (this is called an area code overlay). A person with a 918 area code could theoretically live next door to someone with the new 539 area code. To avoid misdialing and confusion, all 10 digits will be required.
The same thing is happening in Alabama. With 256 area codes running out, a new area code will be created for that same location.
10-digit dialing is nothing new for residents of Oregon, Connecticut, Maryland or West Virginia but for the rest of us, we may want to get used to it.
Has 10-digit dialing come to your area? How has it affected you?