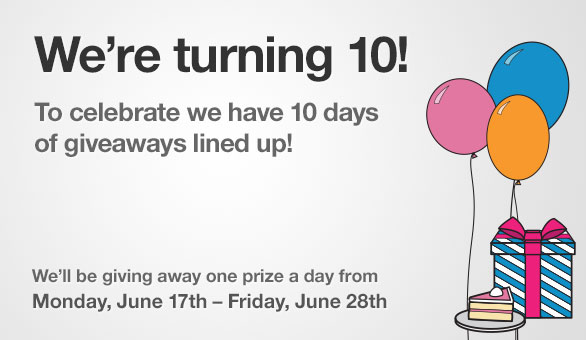 It's our 10th birthday and we can't help but "act our age!" We're celebrating like any 10 year old kid would with a fun, bug-themed birthday party, toys, games, and more importantly 10 days of GIVEAWAYS!
Our official birthday is on June 4th but we're celebrating here at the office on Friday, June 28th.
Leading up to the big day, we'll be giving away 1 prize a day for, you guessed it, 10 days starting on Monday. All you have to do is answer a trivia question correctly to be entered to win! Don't worry – we're not giving out lame pens with our logo on them or anything like that. We're giving out cool prizes.
How to play:
We'll post two Grasshopper trivia questions each (business) day on our Facebook page starting on Monday, June 17th and ending on Friday, June 28th.

One question will be posted at 10 AM EST and the other at 1 PM EST.

Post your answers as a Facebook comment. Each correct answer (1 per question) counts as 1 entry.
How to win:
We'll post the correct answer to both questions at 4 PM EST each day.

We'll pick 1 winner from each day and announce all 10 winners on Monday, July 1st at 10 AM EST here on our blog and on our Facebook page.
There are 10 awesome prizes up for grabs! Here's what you could win:
Be sure to enter every day to increase your chances of winning! See you on Monday at 10 AM EST for trivia!