Legal Items: DIY or Hire?
Completion time About 35 minutes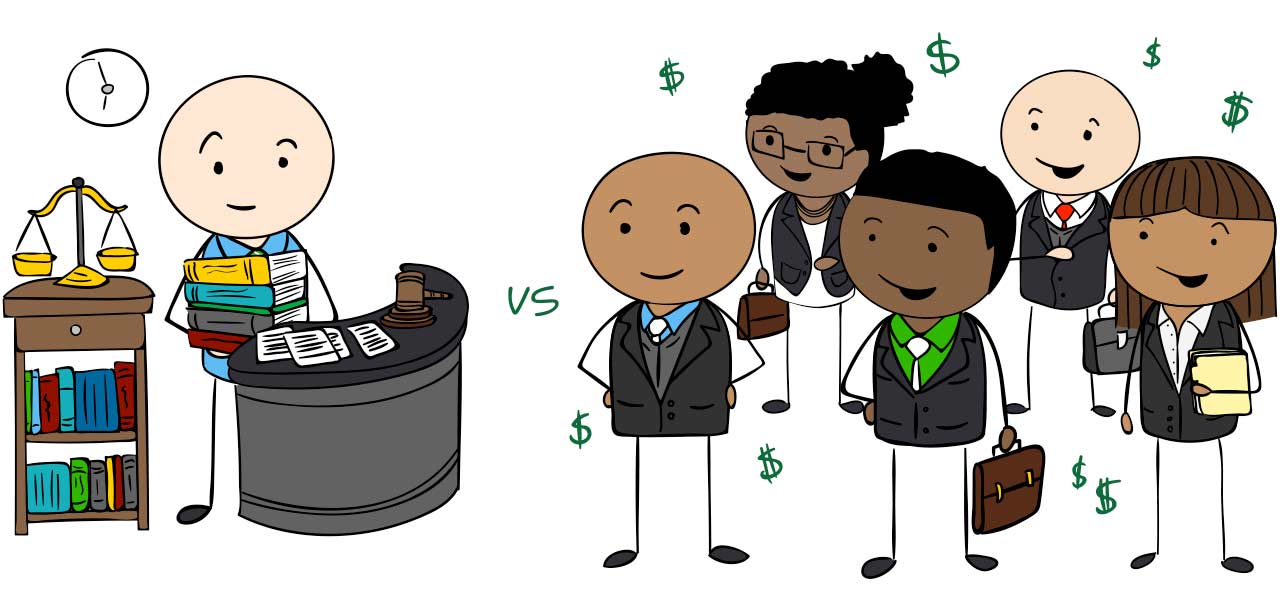 While starting a new business can be really exciting, it's important to remember to take care of the less appealing aspects of getting off the ground, too. That includes all of the legal paperwork and hoops to jump through to ensure your new venture is ready to go.
The legal items you'll need to tend to will depend a lot on which type of legal structure your business will go with. Structure will also impact how complicated these items are and whether you're better off handling them yourself or outsourcing.
In this lesson, we'll discuss the documents you'll need for the different business structures, as well as provide a framework for determining who should handle legal items. We'll close with resources to help your do-it-yourself or find someone else to take care of it. Let's get started.
Legal Documents to Prepare
There are a few documents that every new business is responsible for, regardless of legal structure. These include:
SS-4. The SS-4 is a form that you'll need to file with the IRS. This allows the government to view your business as a taxable entity, and it's how you're issued an employer identification number (EIN) or tax ID.
Online privacy policy. You're going to have a website, right? If you plan to gather any information from users (including emails, usage and demographic data, etc.) then you'll need a privacy policy that explicitly details how you'll use this information.
Online terms of use. While not technically required, it's good practice to also put together your online terms of use. These explain what users are and are not allowed to do on your site (helpful if you allow comments and social sharing), as well as limiting some of your liability around the content and links on your site.
Non-disclosure Agreement. It might seem lofty to think about needing an NDA right now, but there is some information about your business that should remain privileged. An NDA fosters confidentiality between your business and any contractors, employees, or other partners you work with.
Sole Proprietorship
As a sole proprietor, you'll have the fewest legal hoops to jump through. The main document you need to fill out (in addition to those already mentioned) is your "Doing Business As" or DBA.
This is how you register a business name — that's different from your own name — with the state or local government. All you need to do is fill out a registration form and bring it, along with proper ID, to your state or county clerk's office.
Partnership
To form a legal partnership, the first document to prepare is your Trade Name Application. Similar to a DBA, a Trade Name Application registers the business name you wish to use (if different from each partner's last name) with the state or local government.
The second document you'll need is the most important — your partnership agreement. This agreement explicitly lays out the rules and regulations for running the partnership. What are the roles and responsibilities of each partner? What financial contribution has been or will be made by each? How will profits and losses be allocated?
The agreement should also cover what will happen in the event that one of the partners passes away or sells his/her ownership interest. Take a look at what a sample partnership agreement looks like.
There may be additional documents needed in order to form a limited liability partnership, or LLP.
Limited Liability Company (LLC)
The first step to forming an LLC is drafting your Articles of Organization. It sounds complicated, but this document simply outlines the business name and address, member names, and details about your registered agent (someone who's authorized to accept legal documents for you — typically your attorney).
While not usually legally required, it's important to write up an LLC Operating Agreement anytime there will be more than one party involved in the company. Similar to a Partnership Agreement, this document details how financial and functional decisions will be made, the roles and responsibilities of each member, and how profits and losses will be distributed.
Corporation
Forming a corporation is the most arduous process among the different legal structures. The first step is to draft your Articles of Incorporation. This document must include:
The corporation's name and address
The corporate purpose
Name and address of the corporation's registered agent
Information about stocks, including number of shares and the value of each
Many states also require that the articles include information regarding the Board of Directors — who directors will be, when they'll meet, etc.
The next document you'll need to draw up is your company's bylaws. These lay out how the company will be run including the business' structure, individual members' roles, and what will happen in the event of leadership issues.
How to Decide If You Should DIY or Hire Someone Else
Now that you know what documents you're required to produce, how do you feel? If any part of you is unsure or confused — even a little bit — it's probably best to play it safe and consult with a small business attorney.
To get started with an LLP, LLC, or corporation of any kind, we definitely recommend working with a lawyer. Some of these documents can be on the more complicated side and laws governing operations are plentiful. An attorney can take some of the hassle out of formation and help get your business started on the right foot.
If you're forming a sole proprietorship or general partnership, and you feel like you have a pretty good handle on things, you should be able to manage the legal work on your own. If you have questions or need a little clarification, you can always chat with an attorney through resources like LegalZoom, in lieu of hiring someone to handle the whole shebang.
Resources for DIYing
Resources for DIYing