About Grasshopper
Built by entrepreneurs, for entrepreneurs
Over 300,000 Entrepreneurs Served Since 2003
Founded by two entrepreneurs, Grasshopper has been making it easier to start and grow a small business since 2003. Back then, we started as just two guys with a dream and to date have served over 300,000 entrepreneurs (and we're still growing).
Today our commitment to helping entrepreneurs is stronger than ever, and we continue to develop new and innovative tools to help them change the world.
News
&

Buzz
Why You Should Think Like a Fortune 500 CEO from Day 1- and Other Branding Lessons from Grasshopper
Wow. @Grasshopper's virtual PBX just made me squeal with delight! Adria Richards@adriarichards
The business of being human
Start-up on a Budget: 14 Cheap Tools
I am now a huge fan of Grasshopper … truly saved the day (and my sanity). Carolyn AppletonCarolyn M. Appleton, Inc.
@grasshopper I do <3 my Grasshopper phone number - can't help but sharing it!! Maren Kate@marenkate
Even though we live in the world of email

&

texting, faxing still exists. I love how @grasshopper sends them to me via email in PDF format!! Chenese Bean, MUA@mschense
How to Start a New Business on the Cheap
Having a phone number on our site increased conversion of site visitors to sign ups and paid users! Allan BranchLessAccounting
We Love Our Team and Culture
Check out our in-flight culture video
Grasshopper employees are outstanding at what they do, and we expect nothing less from prospective candidates. We're looking for dynamic team players that set the bar high, and then surpass it.
We're not talking about automatons though – you've got to have a little soul. That means we expect you to play as hard as you work.
Luckily, at Grasshopper, it's possible to do both.
Careers at Grasshopper »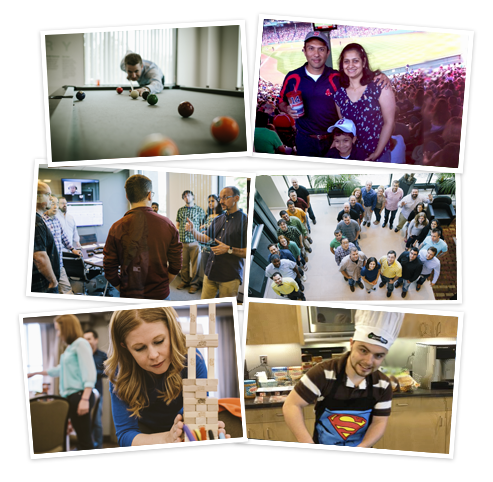 Meet the Founders
&

Management Team
Siamak Taghaddos

Co-founder

Siamak Taghaddos

Co-founder

Siamak Taghaddos oversees the strategic direction of Grasshopper and serves as the company's brand and product visionary. A life-long student of marketing, Siamak could be described as a one-man, full-service ad agency. Prior to serving as CEO of Grasshopper, Siamak founded a communications company and developed marketing campaigns targeting the elusive youth market for College Coach, Bright Horizons' educational consulting division. Siamak serves as a judge for numerous Babson entrepreneurship competitions, is an advisor to EntrepreneurShares, and is the founding supporter of National Entrepreneurs' Day.

Siamak was born in Iran and grew up in Boston. He graduated from Babson College with a Bachelor of Science degree in entrepreneurship and marketing where he won the Business Plan Competition and received the Student Business of the Year Award.

Career Highlights

Inc. | "30 Under 30" list
Inc. | #66 on the Inc. 500 Fastest-Growing Private Companies in America
CNN | "Young People Who Rock"
BusinessWeek | "Top 5 Entrepreneurs Under 25" list
American Venture Magazine | "40 Under 40" list
Boston Business Journal | "40 Under 40" list
Entrepreneur Magazine | "Power Player"
U.S. Small Business Administration | "MA Young Entrepreneur of the Year"
Founding supporter of National Entrepreneurs' Day

David Hauser

Co-founder

David Hauser

Co-founder

David Hauser oversees the strategic direction and operations of Grasshopper and serves as the company's technology visionary. A passionate technologist, he's the guy you go to when you have a question about how the universe operates (or if you simply want to consult his encyclopedic inner search engine). As champion of the company's Core Values and work culture, he strives to create an environment that is professionally and personally rewarding for all employees.

A technology start-up veteran, David was co-founder of Return Path, an e-mail performance management company. David's strong entrepreneurial spirit has allowed him to serve as a consultant for various companies as well as a mentor to emerging entrepreneurs through his alma mater, Babson College. He has also been a speaker at LessConf, Big Omaha, FOWA, SuperConf, and other events. David was born and raised in New York City. He graduated from Babson College with a Bachelor of Science degree in business.

Career Highlights

Inc. | "30 Under 30" list
Inc. | #66 on the Inc. 500 Fastest-Growing Private Companies in America
CNN | "Young People Who Rock"
BusinessWeek | "Top 5 Entrepreneurs Under 25" list
American Venture Magazine | "40 Under 40" list
Boston Business Journal | "40 Under 40" list
Entrepreneur Magazine | "Power Player"
U.S. Small Business Administration | "MA Young Entrepreneur of the Year"
Founding supporter of National Entrepreneurs' Day