833 Phone Numbers for Your Business
Get 833 phone numbers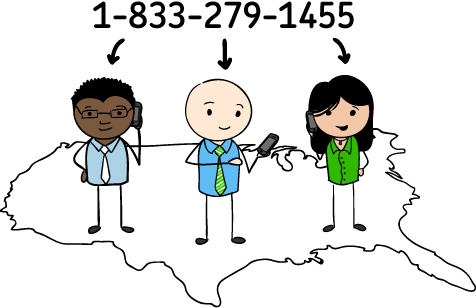 Reserve your customized 833 vanity number
833 is the newest toll free prefix out there
833 numbers are great for small businesses
Send text messages from your 833 number
30 Day Money Back Guarantee!
Get Your 833 Number »
or See How it Works »
833 Numbers Available June 3rd, 2017!
Get Your New Number Here
As of June 3rd, 2017 customers will be able to register for a new toll free prefix - 833.
So, what does that mean?
New phone numbers that were not previously available are now available.
Grasshopper can pre order vanity 833 numbers you want for your company (ex: 1-833-FLOWERS).
Pre order your 833 number today!
* Disclaimer: Grasshopper cannot guarantee the successful reservation of every 833 number requested.
Cost of the New Numbers
Grasshopper has these numbers available as low as $29/month – which also gets you unlimited extensions for your phone line and EVERY other feature our phone system has available. We'll even waive our $25 activation fee! Where some companies have been charging as much as $99 per order for these new numbers, you can get yours from Grasshopper MUCH cheaper.
Pick Your Perfect 833 Vanity Number
The best part of these new 833 numbers is the ability to get the exact vanity number you want. Many 800 numbers have been swiped up, so now is your opportunity to get the perfect vanity number before it's too late.
You can look through available numbers here.
Here are a few tips for picking the best number:
Make it easy to remember. It's all about the letters, so avoiding numbers at all costs is your best best—1-833-FLOWERS is a very easy to remember number.
Communicate what your business does. This number is an extension of your brand. Use your number to tell people what you do like 1-800-CONTACTS does.
Avoid unique spellings. One of the big benefits is that a vanity number is easy to remember. Don't make it hard to remember by getting creative using a "Z" instead of an "S." For example: Using "catz" when "cats" isn't available.
Avoid hybrid numbers. It's a lot easier to remember 1-800-GoFedEx than 1-800-876-Ship because people still have to remember the 876.
Benefits of 833 Numbers
Improve customer satisfaction
With an 833 number, you can improve your customer service and satisfaction simply by being available to take their call. Your number makes it easier for your customers to reach you and get their questions answered. They'll be able to call you any day, at any time and it won't cost them a thing. The easier you make it for your customers to reach you, the more likely they are to remain a customer.
Easy to remember
Another benefit of having a toll free number for your business is that it's much easier to remember than any other number, especially if it's a vanity number. It's a lot easier for people to remember 1-800-Flowers than it is to remember 1-800-356-9377. People are more likely to call you, it can generate more sales and it can be a really powerful marketing tool for your business.
Credibility
Toll free numbers aren't just for big corporations; they are great for companies of all sizes, especially those just starting a business. Having a toll free number gives your business credibility and enhances your company's image. You could be working out of your basement and no one would know.
Portability
With a toll free number, location doesn't matter. Relocating your business? Your customers won't even know! You can still be reached by your toll free number regardless of where you are located, simply by forwarding your calls to your cell phone or any other phone for that matter! Did you also know that once you purchase a toll free number it's yours? Even if you change providers, you can take your number with you.
Marketing tool
Did you know 833 numbers can help you better track your marketing efforts? An 833 toll free number allows you to create extensions, which can then be associated with a particular campaign. One number for print, one for the website, etc. Your toll free number can act as a marketing tool and as a result can increase your call volume, sales and ROI.
Differences between 833 Numbers and 800 Numbers
There are no functionality differences between 833 numbers and other toll free prefixes.
The main difference is that 833 numbers have never been accessible before, so there are many more options available to companies. It's a new chance to get the "perfect" number for your business that may not have been available before.
Another small difference is the volume of numbers made available, the following data has been released before around quantity of toll free numbers available from the FCC:

6.5 million available 800 numbers
5.0 million available 888 numbers
4.9 million available 877 numbers
3.1 million available 866 numbers
Is an 833 Number Actually a "Toll Free" Number?
In a word – yes.
It functions the same as an 800 number, or any of the others (888, 877, 866, 855), but now there are a lot more options!
They Won't Last Long
844 numbers were the last "new" prefix released to the public by the FCC and that was all the way back in December 2013. It could definitely be a while before anyone gets this type of opportunity again so we recommend seizing the opportunity at hand. Lots of companies out there are trying to take advantage of businesses by charging $99 per per-registration order if they can successfully reserve your number; others charge as much as $650 for the full package of reservation and successful claim of number. If you've registered elsewhere, you can still port your number to Grasshopper, or, you can register for them with us directly.
Join the Conversation with Grasshopper
Over 300,000 Happy Customers Served
Here's what a few of them have to say about Grasshopper
I am now a huge fan of Grasshopper… truly saved the day (and my sanity). Carolyn Appleton Carolyn M. Appleton, Inc.
Having a phone number on our site increased conversion of site visitors to sign ups and paid users! Allan Branch LessAccounting