Real Grasshopper Rebranding Examples
Grasshopper FedEx'd 5,000 Chocolate Covered Grasshoppers
to Influencers and Entrepreneurs
We FedEx'd 25,000 chocolate covered grasshoppers (yes, real ones) to 5,000 of the most influential people in America, including bloggers, politicians, celebrities, entrepreneurs, CEO's, journalists, reporters, TV anchors and more to promote our new Entrepreneur Movement. Did you get one? Below is just some of the buzz we've generated so far.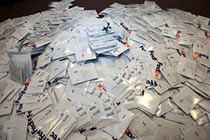 Curious how the social media campaign did? »
Or download the case study here!